Here's the answer to your questions "Who owns TikTok?" and "Who invented/made TikTok?". Or if you're looking for something involving money, you'll find "what is TikTok's net worth" here. Zhang Yiming created the video-sharing tool TikTok, but it's his company, ByteDance, that owns the platform. Yes, he doesn't own 100% of ByteDance, which is not a surprise if you know about today's billionaires.
Zhang Yiming was born in April 1983 [age 37] in the Fujian province of China as an only son of civil servants. He joined the microelectronics department of Nankai University in Tianjin in 2001 before changing his field to software engineering and graduating in 2005. While the details are not known, he met his wife there.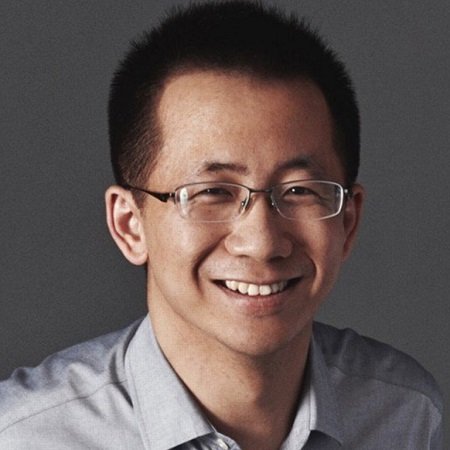 Zhang Yiming is the genius behind the hooking TikTok app.
Photo Source: South China Morning Post
Since starting ByteDance in 2012, he's cemented his position as the tenth richest Chinese entrepreneur, and 79th in the world, in terms of net worth. TikTok has been a huge source of income for ByteDance. While TikTok's worth will only be known when and if Yiming decides to sell it one day, it's allowed ByteDance itself to be valued from nothing to $75 billion. So yeah, now you know how TikTok is able to pay its users for their videos (although, it's not entirely accurate that TikTok completely pays).
Zhang Yiming's Net Worth of $16.2 Billion Was Made After ByteDance's Value Soared Astronomically
As of February 2020, Zhang Yiming is worth $16.2 billion. The wealth is accumulated from his estimated 24% of the shares at ByteDance. In order to value ByteDance to $75 billion, he had to spend a lot of time searching for partners, which was extremely difficult at first. Once it kicked off, his net worth doubled, then quadrupled to reach to where it is right now.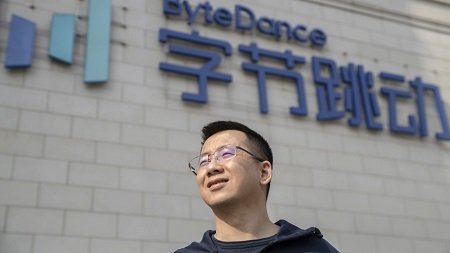 ByteDance owns TikTok and many other apps created by Yiming.
Photo by: Gilles Sabrie, Bloomberg/Getty Images
TikTok is actually not ByteDance's primary business. Yiming first launched Jinri Toutiao, a news aggregation service, in August 2012. While investors were initially hesitant to put their money on what is now called the most successful startup in the world, a few courageous ones made everyone's head turn to the company. By next year, he was already enlisted in the 2013 Forbes China 30 Under 30 List.
While the US was initially afraid of TikTok's possibility of making sensitive national security details public, it's now just been a matter of people lashing out at kids for "wasting their time" with the platform. Is it because Millennials and generations before that fail to understand the working of this video-sharing app, unlike other social media platforms like Facebook, Twitter and Instagram?
Before ByteDance — Yiming's Decision to Leave Work at Microsoft Became Highly Beneficial
Having studied a tech-related degree, it was obvious he wanted to progress in this particular field. After completing his study at Nankai, Yiming starting his career in February 2006 as an engineer (first engineer of the five total employees at the time) at the tourism search website, Kuxun.com. A year later, he saw a promotion to technical director at the business.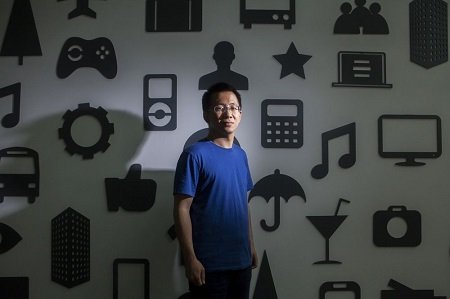 Zhang Yiming is the 10th richest person in China in terms of net worth.
Photo by: Giulia Marchi, Bloomberg
In 2008, he left Kuxun for a chance to work with Microsoft. But due to some difficulties adjusting to the corporate rules, he left the job and joined Fanfou, a startup that later failed. But it was not the end of the road for him. In 2009, he started his first company 99fang.com, locally called Jiu Jiufang, after taking over Kuxun's real estate search business at a time when it was almost acquired by Expedia.
Kuxun was an important start to his success as he credits it for teaching him sales skills, which he actually used in order to grow ByteDance.
Meanwhile, he quit 99fang three years later when he found an opportunity in the smartphone news delivery sector. He envisioned using artificial intelligence to generate results for the users on the internet in an appropriate manner, which Baidu, China's biggest search engine, failed to deliver by mixing search results with undisclosed advertising. He searched and found a professional manager to replace his position as the CEO of 99fang to completely invest his own time and money in ByteDance in 2012.
ByteDance's Ventures Besides TikTok — 'Susquehanna International Group' Was a Solid Start for Funding
The idea of using AI to filter search results was not immediately sold to the investors Yiming approached. He'd left everything else aside and desperately needed this to work. And he was confident enough even after Sequoia Capital, a major venture capital firm in China, first rejected it. Sequoia would later come knocking at his door witnessing the success he'd had and also become instrumental in lifting up his billionaire status.
The first of the partners to invest in the 37-year-old's idea was Susquehanna International Group. The big break was in July 2012 when Susquehanna and another billionaire investor Yuri Milner helped ByteDance collect a $5 million fund in its Series A financing round. Susquehanna was crucial in the company's initial stages as they injected another $10 million in 2013 (Series B round) on ByteDance.
After the Series A round, Yiming immediately launched Toutiao in August 2012. But ByteDance's first app was Neihan Duanzi, which was shut down in 2018 by the National Radio and Television Administration because of a clash with the Xi Jinping Thought of the Communist Party of China. The two apps would be commercial successes in the coming years, but Toutiao's peak would come only five years later.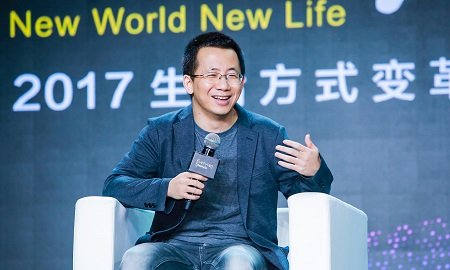 Yiming envisions 'Toutiao' to be the next Google.
Photo: GGV Capital
Meanwhile, Sequoia Capital China came back around and injected $100 million into ByteDance in its Series C round in 2014, when Toutiao's daily active users rose to 13 million. With that, the company was valued at $500 million. In comparison to today's $75 million valuation, that was only the beginning. SoftBank and General Atlantic also were among the other companies to invest millions into ByteDance.
TikTok, The Real Star of 'ByteDance', Integrated with Musical.ly to Make Multi-Billion Earnings for ByteDance
TikTok (Douyin in Chinese version) came only in September 2016. He launched it with OK popularity, and Musical.ly was already on the high all over the world. Just to clear it out, Yiming's ByteDance did not invent Musical.ly. They bought it over a year later for a $800 million deal and integrated it to the TikTok we know today. Musical.ly was actually introduced by another Chinese tech entrepreneur, Alex Zhu, and his friend Luyu Yang, who created the app with a completely different flare, but a video-sharing platform nonetheless.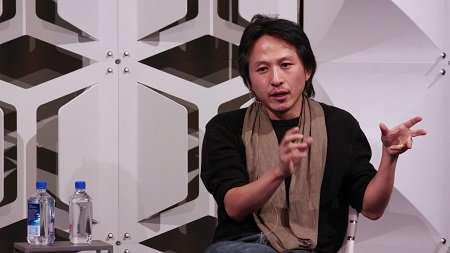 Alex Zhu first created Musical.ly in 2014.
Photo from: Greylock Partners, YouTube
2017 was one heck of a year for ByteDance. Toutiao became the most downloaded news app on the iOS App Store in China. The muscal.ly deal, which would later be a craze among Millennials and later generation kids, was sealed by November. Sequoia introduced two more funding rounds in April and December 2017 to spike ByteDance's valuation to $20 billion. Sure enough, Yiming was already a billionaire after that.
In March 2018, Zhang Yiming debuted on Forbes' billionaire list with a net worth of $4 billion. By then, his share at ByteDance was diluted from 2013-claimed 98.8% to 65% in between, according to media reports, and to finally about the estimated 24% now.
2017 was clearly not the end of the rise of ByteDance's valuation. From $20 billion, 2018 brought more ripe fruits to increase its valuation to $75 billion by October. Investors kept pouring in because by July that year, TikTok, which was launched internationally only after the Musical.ly deal, was skyrocketing in popularity. The app had 500 million global active users by that month. Meanwhile, it hauled in $7.4 billion (50 billion yuan) in 2018, according to Bloomberg News' January 2019 report.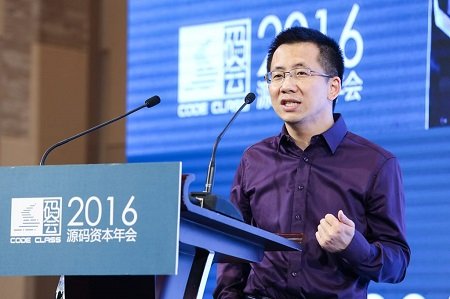 ByteDance was already on the high inside China by 2017.
Source: Code Class
Yiming's net worth thus quadrupled that year for us to seem him in the billionaire list every day now. According to recent reports, Ryan Donovan, who is Hootsuite's CTO, says, "According to our recently launched Digital 2020 report, TikTok boasts over 800 million monthly active users–up 300 million from January 2019." Vine's shutdown in October 2016 also helped a lot. Forbes collected some views of experts on why TikTok gained popularity. Check it out.
And TikTok was not ByteDance's first international product. They'd already launched TopBuzz back in 2015. They also acquired the global media news aggregator News Republic in 2017. In 2019, they also launched FlipChat to compete against WeChat and another video-messaging app called Duoshan.
Teenagers' Craze over the App Has Parents Going Crazy, While the US Feared a Threat to National Security
Under Donald Trump's administration, everything foreign that approached the US market has been viewed with scrutiny and thought to be a threat rather than a treat in any kind of way. In February 2019, TikTok paid a $5.7 million fine to the Federal Trade Commission over allegations that the app illegally collected personal information from children under age 13 without parental consent, in violation of the Children's Online Privacy Protection Act. Similarly, another related lawsuit was settled with $1.1 million.
US authorities opened a national security investigation into TikTok and ByteDance in November 2019. The popularity surge has authorities worried about China's influence over US citizens. But many don't know TikTok is owned by a China-based company. However, Vanessa Pappas is in charge of overseeing TikTok's operations in the US from its Los Angeles office. Perhaps a request to calm down? Yiming is actually a very humble man.
Watch: Are Harmless Videos a Threat That Could Be Used Against the Users Themselves? That's Why You Should Always Read the T&C
Meanwhile, a different concern has been plaguing adults' minds constantly seeing teenagers involved in the video-sharing app, instead of going to school and whatnot. Many have been quick to criticize the young users as it's been difficult to understand the moral use of the app. Many have just used it as a way to entertain themselves, let it be enjoying the content or just plain making fun of it.
As it stands, Loren Gray [net worth: $4 million] controls the most-followed account with 39.7 million followers, and Zach King [net worth: $3.5 million] continues his tricks from Vine to TikTok with 35.6 million followers. Meanwhile, 15-year-old Charli D'Amelio [net worth: $4 million] is taking the TikTok world by storm as she currently stands fourth with 30.8 million followers. Her statistics are overwhelming, to say the least.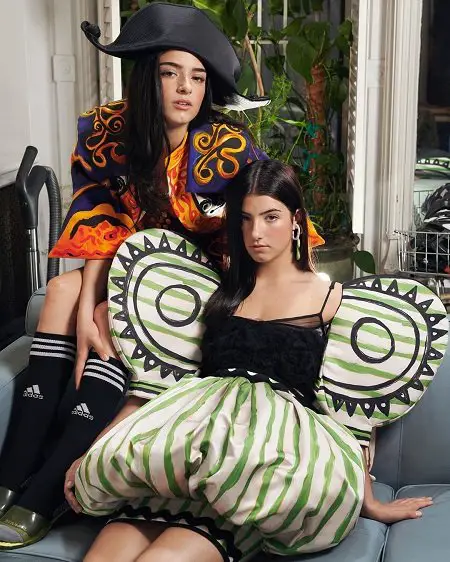 Charli D'Amelio (bottom/right) is taking over the TikTok world.
Photo Source: Charli D'Amelio, Instagram
Meanwhile, TikTok's own account is second in the follower-count standings, with 37.3 million followers. Zhang initially didn't make his own TikTok as the app was targeted for young customers. But later, he made it an obligation for himself and his senior employees to make their own TikTok video and even compete for the most likes.
"For a very long time, I was merely watching TikTok videos without making any of them myself, because it's a product mainly for young people," Zhang said, according to the South China Morning Post. "But later on we made it compulsory for all management team members to make their own TikTok videos, and they must win a certain number of 'likes'. Otherwise, they have to do push-ups. It was a big step for me."
Keep checking in to Celeb$fortune for more celebrity Net Worth content. Check out the Fortune Focus section for other updates.