There has come a point where YouTube has even become a family business being passed down from the older generation to the younger. And when the topic of second-generation YouTube stars comes off, Bailey Marne McKnight (or, say Bailey McKnight Howard) and Brooklyn McKnight top the list with their arising stardom on social media.
With a birth date of December 31, 1999, Bailey was born to her father, Shaun McKnight, and popular YouTuber mother, Mindy McKnight who she has to thank for the fame she received at a very young age. Even though she and her identical twin, Brooklyn came to prominence after being featured in their mother's DIY hairstyles channel, Cute Girls Hairstyles, they now have their own separate YouTube channel, Brooklyn and Bailey, which further helped them to rise to stardom.
The graduate of Baylor University just tied the knot with her high school sweetheart turned husband, Asa Howard. Talking about her religion, she is a Mormon or the Church of Jesus Christ of Latter-Day Saints (LDS). Being a Mormon, she prefers not to drink and does not curse as well. She also has two other sisters namely Kamri Noel McKnight and Rylan Olivia McKnight as well as two adopted black siblings, Daxton McKnight and Paisley McKnight.
Bailey McKnight: A Second Generation YouTube Star
Bailey McKnight and her twin sister, Brooklyn McKnight is no doubt the most popular social media influencers of this era. However, it was their mother Mindy McKnight who paved the road to success for them. It all started when the sisters appeared in Mindy's flagship DIY channel Cute Girls Hairstyles, a visually extraordinary series that showcases the art of hair design in 2008.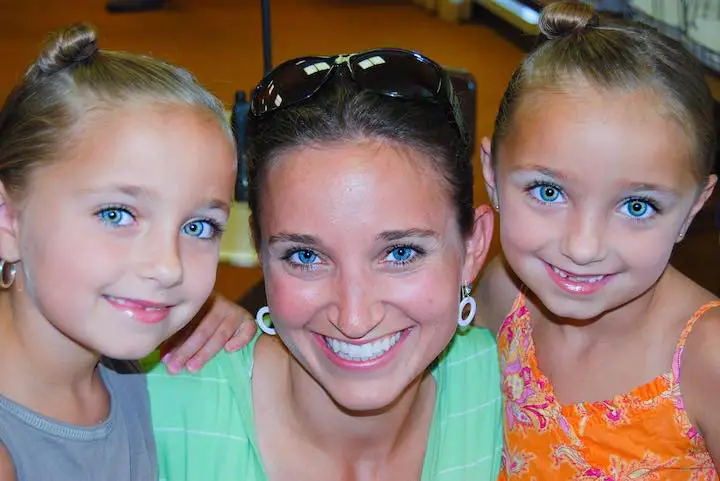 They built themselves as a single brand together from the start that they don't even have their individual presence on social media.
Photo Source: Brooklyn and Bailey, Instagram
The Texas-based twins soon garnered their own loyal fan base and started their own YouTube channel called Brooklyn and Bailey in 2013. This spinoff channel even surpassed their mother's channel in subscribers count and in a blink of an eye, they got listed in the 2017 Forbes Top Influencers-Kid.
Recommended: On the Other Side, Mother Adina Miccio Is Making the Most of Her Daughter's Fame As Well
Just like them, their younger sister Kamri Noel McKnight also followed their path and launched her own YouTube channel, Kamri Noel, in April 2014. The 19-year-old has over 2.05 million subscribers on her self-titled YouTube channel and is not only centered on comedy, pranks, and challenges videos but also covers a host of topics.
How Does Bailey McKnight Amass Her $4 Million Net Worth: Income Sources, Merch, Acting, And Musical Career
As per different estimating sources, Bailey McKnight holds a net worth of $4 million thanks to her huge fan following on social media which attracts sponsorships and brand endeavors. But as we all know, their main source of income is their self-titled YouTube channel, Brooklyn and Bailey, with 6.92 million subscribers and 528+ videos which helps them earn $6,000 per video.
The identical twins share a joint Instagram page, Brooklyn and Bailey, as well as a TikTok account, Brooklyn and Bailey. With over 6.9 million followers on the Instagram account and 6.2 million followers on their joint TikTok page, they make around $18,000 per post on Instagram and $5,000 per post on TikTok strictly through sponsorship posts.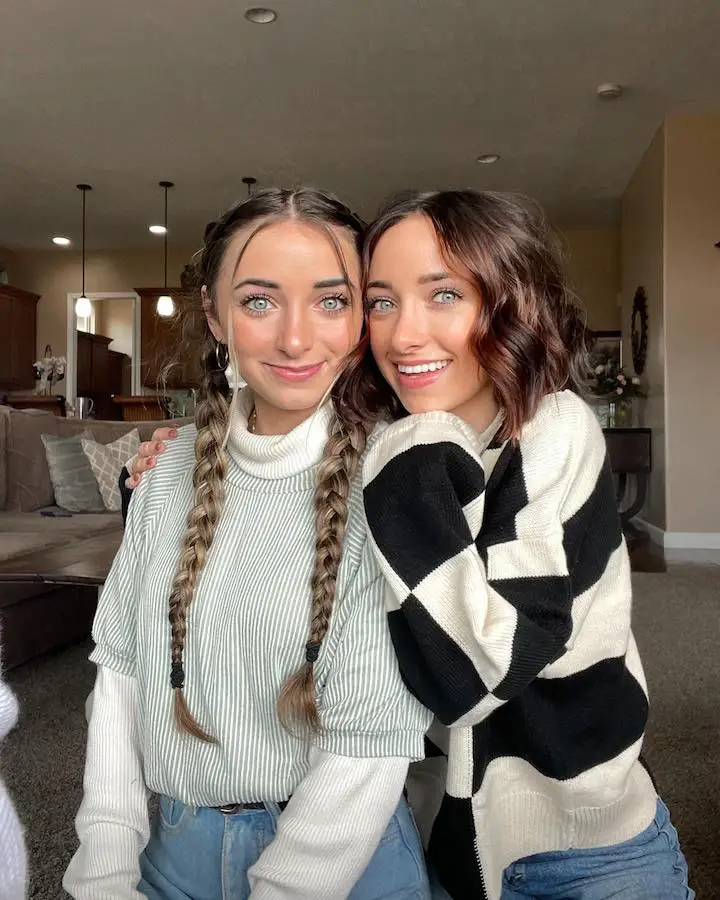 At least their hairdos make it easy to identify which twin is which.
Photo Source: Brooklyn and Bailey, Instagram
Additionally, they also launched Squared, a YouTube channel and daily web series along with other twins. Besides, the twins are tapped by major brands seeking an authentic voice and family appeal, including Disney, CoverGirl, Clinique, JCPenny's, Hollister, and more. What's more, they even get a fair share of cut from promoting Baylor University. Besides, her acting credits involve her work in JoJo's Juice, Camp Nick, and The Adventures of Food Boy.
They kicked off their musical career with the song Dance Like Me partnering with music producer, Benny Cassette on March 3, 2007, which landed at #26 for most popular song and #12 for pop US song on iTunes. After getting huge success from their debut song, the greenish blue-eyed influencers released other songs like Simple Things and What We're Made Of both in the year 2017. Furthermore, they also went on a 12-date concert tour presented by DigiTour in the same year.
McKnight also makes a good sum from her branded merchandise which consists of all custom lanyards, wallets, notebooks, stickers, and pencils to tees, jackets, hats, scrunchies, and accessories as well as tech and car accessories. Among all these, their scrunchies and mascara called Lash Next Door are quite popular among fans.
Some accolades for the twins include being listed as Forbes Top Influencers – Kids, winning the 2017 People's Voice Webby Award for the Best Social Celebrity as well as being featured in People Magazine's VidCon coverage of top creators. Besides, they were also named Champions of the UN Foundation's Girl Up Initiative, which advocates for the education, health, and safety of girls across the world.
Bailey McKnight and Asa Howard Saved Themselves for Marriage: Their Wedding And Engagement Details
Unlike other social media influencers, Bailey McKnight does not hide anything from her fans; be it about her nose job or saving herself for the wedding night. Well, the latter part is quite convincing as she believes in the Mormon faith but she has also clarified that it was her personal choice.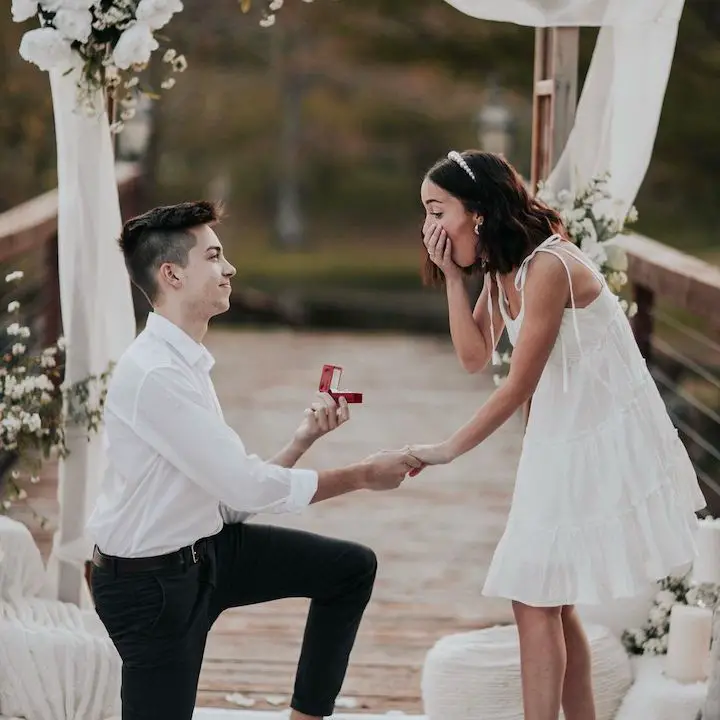 Her mother is probably the proudest to document each of her child's romance journeys.
Photo Source: Brooklyn and Bailey, Instagram
McKnight had been dating Asa Howard for over four years before they got engaged in April 2021. Howard popped the question with the customized halo setting ring with a pear-shaped diamond center stone from JamesAllen.com.
Meanwhile: Cora Tilley Was Getting Threats for Showing Affection for Her Boyfriend
Bailey finally walked down the aisle with her beau on October 1, 2021, at Knotting Hill in Denton, Texas, in presence of their close friends and family members. While fans have been anticipating for this newlywed couple to have kids since their engagement, they revealed that they are not planning to become parents anytime soon. The love birds even signed up the lease together for their two-bedroom apartment before getting married.
Stay tuned and connected to Celeb$fortune for more content from the entertainment and social media industry.