Most possibly in honor of TikTok's queen Charli D'Amelio making a landmark of a year into the video-syncing app, Forbes has released its first-ever list of 'Highest-Earning Stars' solely from the platform. But no one apparently expected Addison Rae to come out on top.
Although it is understandable that it could've happened, given Charli's additional following of over 20 million, no one really prepared for it as everyone remain shell-shocked. And the number is also something to wow at since until a couple of months ago, no one really thought these influencers earned millions from TikTok (reminder: TikTok doesn't pay them, they are just a medium).
She's trying new things in makeup.
Photo Source: Addison Rae Instagram
With just over 54 million followers on her account, second only to Charli's 76.8 million, Addison earned a pre-tax value of $5 million since June 30, 2019, from various paths on TikTok, according to the new list on Forbes, while The Queen earned a million less of $4 million from TikTok sponsorships & brand deals at the same timeframe. Although, add in the reported $1 million for Charli's appearance on the SuperBowl commercial, they tie up with the earnings.
How Addison Rae Struck Gold in TikTok Earnings
While it is initially surprising, it is not as much when grasping the reality of the platform immediately after. The clear reason behind Addison earning more than Charli is simply the number of posts the former has made with sponsorships, brand deals, music deals and even active live-streams she has done. It's just much more than Charli has posted.
However people pit them against each other, these are two very good friends.
Photo Source: Addison Rae Instagram
It's all the same with most social media platforms, advertising through posts, but given the chance, Addison was not going to hold back. Considering her living situation before fame took off in October 2019, it is understandable she would try to explore every corner she can get for the money. Her family is now well off, despite the threat of TikTok vanishing from the US app stores.
Also See: Sway House LA Net Worth
When considering Charli's passion for making video simply for the thrill of it and a chance to put her dance skills to use, it does make sense that she is not the type to dig too much into sponsorships and all. And it is absolutely not because of bad business practices by Charli. Remember, her sister, Dixie D'Amelio is third on the list, earning $2.9 million in a year, despite ranking 11th in the follower-count rankings.
Native TikTokers Were Only Considered, Meaning No One Like Will Smith or Even David Dobrik
The D'Amelio family is well-off with their numbers, money is not a competition after all. With both the D'Amelio sisters pulling off their numbers and even their parents raking in some from their own accounts, they are having the time of their lives.
The list is followed by Loren Gray, the former TikTok topper, with $2.6 million in revenue in the past year. Josh Richards earned $1.5 million, Michael Le and Spencer Polanco Knight raked in $1.2 million each to round off the ones earning $1 million or more in a year via TikTok.
Michael Le is probably the most surprising addition on Forbes' list.
Photo Source: Michael Le Instagram
Forbes mentions, however, that they did not include stars not primarily based on TikTok. This means there would've been more who earned over $1 million from the platform, but the top stars still did better than the excluded ones. This means the likes of Will Smith on 10th and Jason Derulo on 14th are not listed. Even YouTubers like David Dobrik and Zach King were also left out. The latter is third in follower-count and should be raking in quite the bunch with such a following.
Addison Leads It With a Recent Makeup Line, Item Beauty
Spectators are saying Addison gets more opportunities due to her age greater than Charli's. However, it seems the latter chooses to sway away some deals she might not find adheres to her ambition. But it's all a guess.
Nevertheless, the two do agree on various things about venturing off of TikTok. The latest of those is associating with the beauty industry, a sensible choice both their fashion choices are ramping up as well. While Charli associated with Morphe just a couple of weeks ago with her sister, Addison recently announced her own makeup line, Item Beauty, in association with the beauty startup Madeby. The line is dropping to stores next week.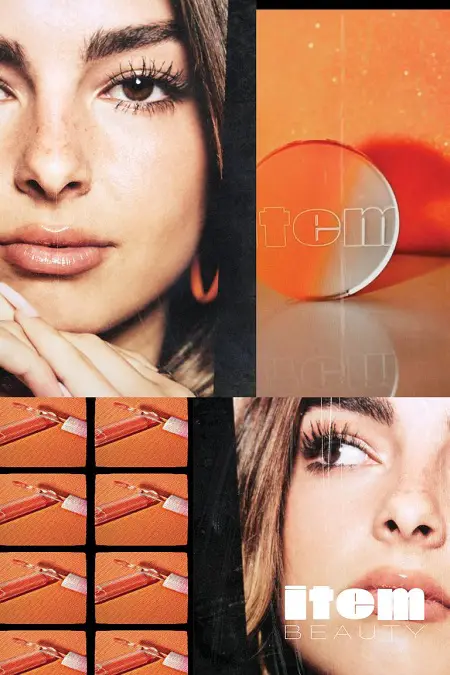 Sale starts at the start of next week on 'Item Beauty's official site.
Photo Source: Item Beauty
As with many social influencers, Addison Rae also started their way through Fashion Nova once she found out fame did a number on her. She left school for LA in December 2019 and joined the Hype House. That's when she branched out to other brands for her own merchandise.
Recommended: Charli D'Amelio 102
The beginnings were her most productive time on TikTok as only the deals with Reebok and Daniel Wellington reportedly got her two-thirds of her estimated earnings. She became a spokesperson for American Eagle last month as she started a weekly podcast later, Mama Knows Best, with her mom Sheri Nicole Easterling.
So, enjoying time with Kourtney Kardashian isn't the only thing she is doing with her life outside TikTok and social media. With her earnings, a $3 million net worth for Addison Rae is possibly justified. And there's more waiting for Addison Rae Easterling.
Keep tuning into Celeb$fortune for celebrity Net Worth content. Check out the Focus section for more updates.