Kathleen Hixson (b. April 29, 2000) popular as Kat Hixson is an aspiring American Instagram influencer, YouTuber, and TikTok content creator. She is best known for her lip sync videos and dance moves on her TikTok account, Kat where she has over 2.9 million followers.
Born in the United States, Kathleen came to prominence after appearing in the Stokes Twins' YouTube videos. She then launched her own channel in October 2020, where she mostly posts trending challenges and prank videos. Hixson has a younger brother whose snaps she often shares on her Instagram.
How Much Is The Net Worth Of Kathleen "Kat" Hixson?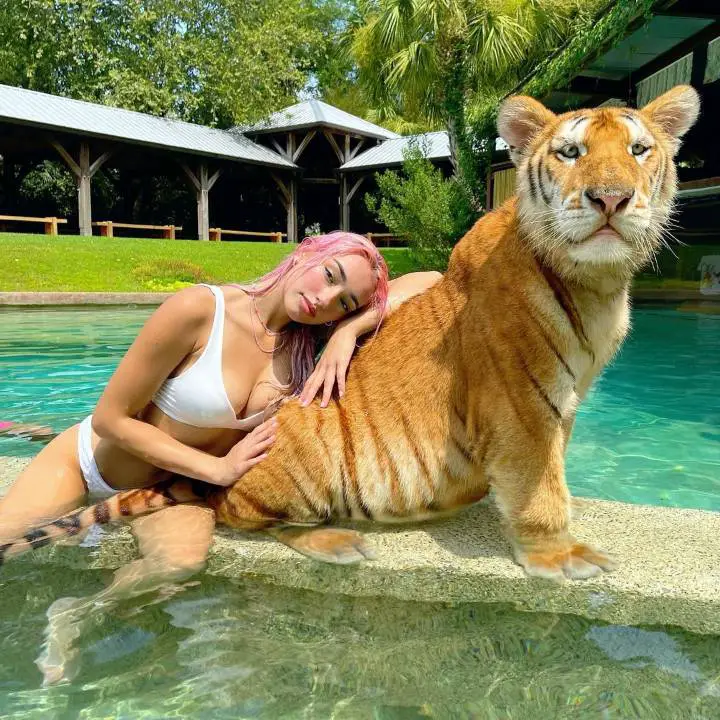 Kathleen Hixson has been ruling the TikTok world with her dance and lip-sync videos.
Photo Source: Kathleen Hixson, Instagram
As per different estimating sources, Kathleen Hixson holds a net worth of around $100,000 thanks to her rising career in social media. Her major source of income is TikTok from which she earns about $2,300 per sponsored post. She even has a separate business email for the collaboration and endorsement deals.
Similarly, Hixson is also popular on her YouTube channel, Kat Hixson where she has over 709K subscribers and earns an average of $4,000 per video. She has posted over 34 videos on her self-titled channel and garnered over 10 million views at the time of writing.
The 21-year-old has also established herself as an aspiring Instagram influencer earning over $1,000 per endorsement post. On her Instagram account, Kathleen Hixson, she has over 308K followers and has posted 120 times. 
Apart from Stokes Twins, Hixson has worked with influencers like Brent Rivera, Andrew Rivera, Ben Azelart, and so on. Besides, she is also compared to James Charles due to her familiar facial features.
Kathleen Hixson Lost Her Home Due to Flood.
Yes, you heard it right. The bubbly girl in the Stokes Twins video who has been selflessly helping with their videos was actually going through a lot in her life. Her house got destroyed due to the flood and she was still living in the same place without giving any hint to her friends.
And if you have been following her for a while now that she has not posted any videos for a long time due to the flood and all. But Stokes Twins somehow knew about her situation and helped her find a new place to live by paying her rent of $48,000.
What's more, they even gave her an additional $10,000 to buy a new camera, iPad pro, and mac book as well as an iPhone which was all destroyed by the flood. While some fans were genuinely amazed by the Stokes Twins' generosity and praised them, others said that it was just clout for gaining more popularity.
Kathleen Hixson's Journey To Social Media Star
Kathleen Hixson started her journey as a social media influencer through her Instagram in March 2014. However, she only started getting recognized after being in the Stokes Twins videos filming different pranks and challenges videos.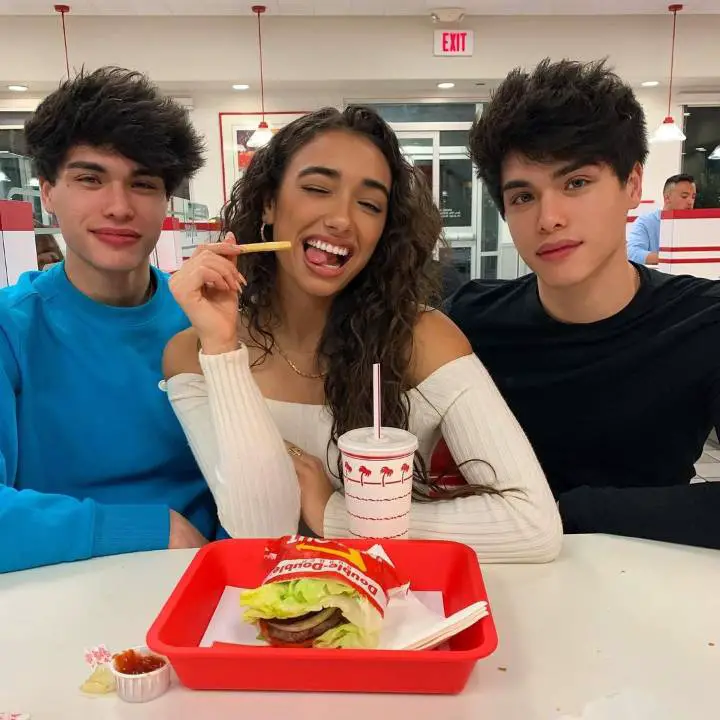 Kat Hixson rose to fame thanks to Stokes siblings.
Photo Source: Kathleen Hixson, Instagram handle
She then turned to TikTok and started posting entertainment content videos in June 2019. Her lip-sync, dance, comedy, and point-of-view (POV) videos soon earned her the attention of her viewers and she soon became a viral sensation on TikTok.
In order to carry forward her TikTok fame, Hixson created a self-titled YouTube channel on 4th October 2020. One of her most popular videos is titled "Big VS Medium VS Small Food Challenge!!!" with over 2.7 million views which features Alex Stokes and Alan Stokes.
Who Is Kat Hixson's Boyfriend? Is She Dating Alan Stokes? 
Unlike her videos, Kat Hixson's love life is not so entertaining with no rumors, and no controversies. She has managed to keep her personal life under the radar and has never spoken of her dating life or boyfriends.
However, it does not stop fans from assuming that she is dating her best friend, Alan Stokes. Since the initial days when Kathleen started filming with Stokes Twins, her undeniable chemistry with Alan sparked the rumors of them dating.
Also Read: Did Emily Alexander Use Adi Fishman for Popularity? Newfound fame in OnlyFans
The pair even shared the on-screen kiss numerous times for the YouTube videos. And, when Alan referred to Kat as his crush in the video titled PRANKING MY CRUSH FOR A WEEK!!, fans could not help but ship them even more. However, all those rumors came to an end after the news of Alan dating the fashion model, Alejandra Melgoza aka Ale Melgoza surfaced in 2021.
Besides, Hixson is also rumored to be dating another YouTuber, Logan Wodzynski after she started appearing more often on his YouTube videos. What's more, this new rumored couple has been spending holidays together since 2022.
Stay tuned and connected to Celeb$fortune for more content from the entertainment and social media industry.