Alan Stokes (b. Nov 23, 1996) is an aspiring actor, YouTube content creator, TikTok star, and Instagram influencer notable for the collaborative YouTube channel, Stokes Twins which he runs with his identical twins, Alex Stokes. Born from a Chinese mother and an American father, Alan is popular for his comedy skits, pranks, challenges, and vlogs.
Stokes Twins may be renowned for being a member of AMP World but it's evident from their YouTube, Instagram, and TikTok, they already shot into prominence even before the AMP squad was formed. AMP World is a digital content studio co-founded by popular YouTuber, Brent Rivera which manages other YouTube content creators like Lexi Rivera, Ben Azelart, Pierson Wodzynski, Lexi Hensler, Jeremy Hutchins, Andrew Davila, and Dom Brack.
Alan and his brother grew up in China in the care of their grandfather till the age of eight before they moved to the United States with their parents. The recent departure of their grandfather due to heart congestion last year took a great toll on the twins that they even lost interest to make videos for a few months.
How Much Is The Net Worth of Alex Stokes? Their Feud With AMP World.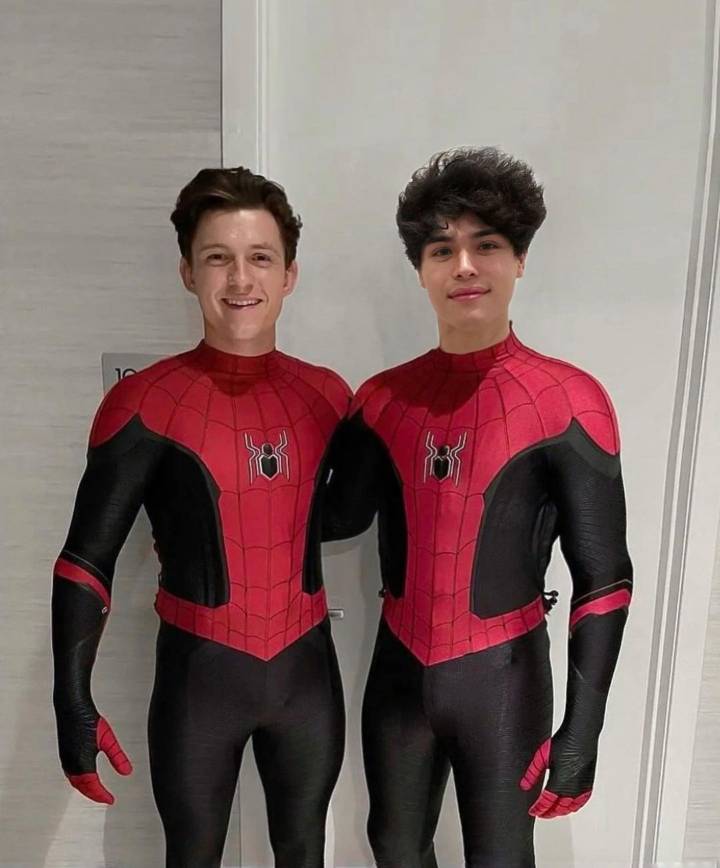 Millionaire's Here!!!
Photo Source: Alan Stokes, Instagram
According to sources, Alan Stokes's net worth is around $5 million, earned from his homogeneous fan throughout his social media. With over 16.9 million subscribers on their collaborative YouTube channel, Stokes Twins, the brothers make an average of $33,890 per post at the time of writing. Not to forget their videos are also sponsored by many popular brands which further help them to garner more wealth.
Stokes Twins launched their YouTube channel, alanalan9635 (later renamed as Stokes Twins) on April 12, 2008, at the age of eight. Initially, they used to post random videos and comedy skits. However, after getting lots of hate and negative comments they decided to take a break for more than six years.
Prior to being members of the AMP squad, Alan and Alex were also the collaborative channel Sunset Park along with other four members like Ethan Bradberry, Coby Persin, Moe Bradberry, Moe Adams, and Andrew Davila. The channel with 110K subscribers and 96 posts, has vlogs on the lives of 7 best friends and their adventures in Los Angeles.
When you have a huge fan following on YouTube, of course, you will expand your fan base in TikTok as well which is one of the most popular social media platforms amongst youngsters. From their TikTok page, Stokes Twins(@stokestwins) which has over 31.1 million followers, they earn around $24,800 per sponsored post.
Alan may have a joint TikTok and YouTube account with his brother, but in the case of Instagram, he has a separate personal account where he shares a glimpse of his personal life. With 5.9 million followers and posting 457+ times on his official Instagram page, Alan Stokes (@imalanstokes), the 6'1" actor earns an average of around $16,000 per post from sponsorships and endorsements.
His income is not only limited to social media, as he gets a fair share from his merchandise Double Trouble Shop which sells high-quality hoodies, sweatpants, t-shirts, and so on. His acting career is not so impressive as he only managed to get roles in only two series like 'Brobot' and 'Afterschooled'.
Meanwhile, if you have been following the AMP World then you surely are aware of the cold war going on in the group. From Dom Brack cheating on his girlfriend, Sofie Dossi to Lexi Hensler officially leaving the AMP World to start her solo career, and influencer-singer Liv Swearingen joining the group, there has always been drama in the squad.
And what tops the list in the drama is that Stokes Twins and Caleb Burton have been publicly showing their hatred towards the AMP squad, more especially Brent. They dished their former friends for copying their video ideas, and doing fake challenges and also revealed that Brent and his friends give fake money as a reward in their video.
While it's still unknownst to the fans why Stokes Twins left the group, it is clear that they have no intention of joining the group again as they did in the past. While some fans showed their full support to the Stokes Twins for showing the true color of the AMP squad, others were not so happy and even commented that they shouldn't drag their problems to the internet for the sake of their friendship of many years.
Know The Struggle Stokes Twins Faced During Their Initial Days
As well all know YouTube is a very hard platform to grow on where coming up with new ideas every week is a real struggle. But that's not the only struggle faced by the Stokes Twins, they did not even have a roof to live under at point in their life.
They grew up in a middle-class family whose income was not even enough to pay the bills. So, after completing high school, the twins moved to Los Angeles in pursuit of being an established YouTuber. However, life did not go as planned and their miseries further increased even to the point they became homeless; sleeping in a car and showering in a gym.
What's more, they even worked continuously for 100 hours a week in order to pay their bill. However, they never complained about their problems nor showed their struggles to their fans. Despite facing all these problems, the brothers always made people laugh with their pranks and comedy skits.
After struggling for many years, Stokes Twins finally got the success they deserved and now they live in a house worth $10 million. Not only that they also recently helped their friends Caleb Burton and Kathleen Hixson aka Kat gifting them a new home who were struggling financially and were homeless for a long time.  Besides, their success story truly inspires people to never lose hope in life and hard work really pays off.
Alan And His Twin, Alex Got Charged With Two Fake Robbery
Alan and Alex Stokes once paid a big price for pulling a prank in public. The brothers pleaded to one felony count of false imprisonment affected by violence, menace, fraud, or deceit, and one misdemeanor count of falsely reporting an emergency after they pretended to be bank robbers for a video stunt on 15 October 2019.
Prank Gone Wrong.
Photo Source: Alan Stokes, Instagram Account
However, in exchange for their guilty plea, the judge reduced their charges to misdemeanor counts of false imprisonment and reporting false emergencies. They were each sentenced to 160 hours of community service, one year of formal probation, and ordered to pay restitution.
In the video, they pretended to be robbers, dressed all in black, wearing ski masks, and carrying duffle bags full of cash ordered an Uber. The Uber driver who was unaware of the prank refused to drive them which was seen by a bystander who believed they were trying to carjack and called the police.
The police after arriving at the scene, ordered the Uber driver out at gunpoint; releasing him when they realized he was not involved. At that time, the police released the brothers with a warning about "the dangerousness of their conduct". However, they pulled the same kind of prank, four hours later at the University of California and were arrested again.
The twins even shared this so-called prank video on their YouTube channel with the title, "BANK ROBBER PRANK! (gone wrong)" which got more than one million views before it got deleted. Furthermore, their channel was even demonetized due to these charges.
Who Is Alan Stokes' Girlfriend? Is He Dating Kathleen Hixson or Ale Melgoza?
Sorry to break your heart ladies because Alan Stokes has also entered into the dating game just like his two former best friends, Andrew Davila and Ben Azelart who are dating Jaden Potter and Hannah Thomas respectively.
In fact, he has been dating the fashion model, Alejandra Melgoza aka Ale Melgoza since 2021. Even though Stokes has not officially announced his relationship, his beau has already shared some glimpse of their love life through her social media.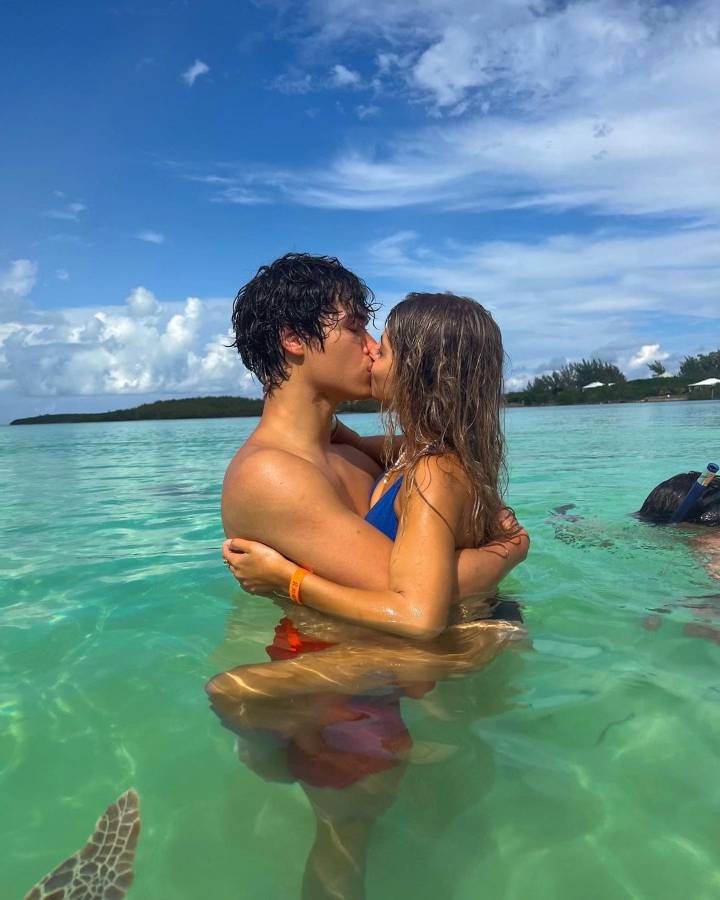 Alan Stokes has been dating fashion model, Ale Melgozaa for over a year now.
Photo Source: Ale Melgozaa, Instagram
Besides, the rumors of Alan dating his friend and fellow YouTuber, Kathleen Hixson aka Kat have been in the news since forever. Their undeniable chemistry in the videos sparked the news of them dating and to add fuel to the fame, the 24 years old has even called Kat, his crush numerous times in his videos.
Apart from Kat, Alan was rumored to be dating social media star, Leslie Contreras. The former pair used to post affectionate videos on their TikTok accounts calling one another crush which now has been deleted. As per sources, they broke up in December 2019, and Leslie is now in a relationship with Jay Furr.
Stay tuned and connected to Celeb$fortune for more content from the entertainment and social media industry