So yeah, with the whole Piper Rockelle [net worth: $2.7 million] gang splitting ways (so much confusion with this), the fans don't know which way to go. Of course, they are confused as to what's happening either. But with Jentzen Ramirez [net worth: $1 million] and Sophie Fergi's break up is now the talk of the town, and fans are in dismay, as well as in confusion.
Born on July 4, 2007, (age 13) in Los Angeles, California, Sophie Fergi is originally an actress who left the acting industry to be a social media influencer (but she might return someday) sometime last year. And on the way in her journey as an actress, she met Piper Rockelle, her best friend since then, through the Brat TV web series, Mani. She's now a YouTuber, TikTok artist and an overall social media personality.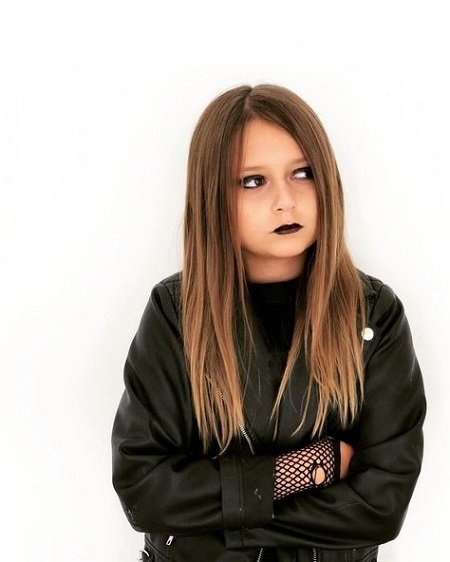 Many knew her as that 'Goth Girl' from 'Mani' before YouTube.
Photo Source: Mani, Brat TV
Mani, of course, stars Lawrence Wayne Curry and Hayley LeBlanc, the younger sister of Chicken Girls star Annie LeBlanc [net worth: $2.5 million]. Through the series, the two formed a gang, (formerly?) consisting of Fergi, Ramirez & Rockelle, of course, with Rockelle's boyfriend Lev Cameron [net worth: $600,000], along with Walker Bryant, Hayden Haas [net worth: $200,000], Sawyer Sharbino [net worth: $300,000], Jenna Davis [net worth: $900,000] and Indi Star [net worth: $300,000]. But with Bryant & Indi rumored to be leaving the gang and Ramirez being removed from Rockelle's featured channels section on YouTube, there seems to be an official split.
Sophie Fergi Was 3 When She Was an Actress (Kind of)
Sophie Fergi was raised by her mother, Heather Nichole, all her life as a single mother; she's also her manager, in general. Although she got the recognition from Mani, she appeared in a scripted video when she was just three years old. She appeared in a 14-minute short video, Away We Stay, in 2010 as a restaurant guest named Sophie Ferguson.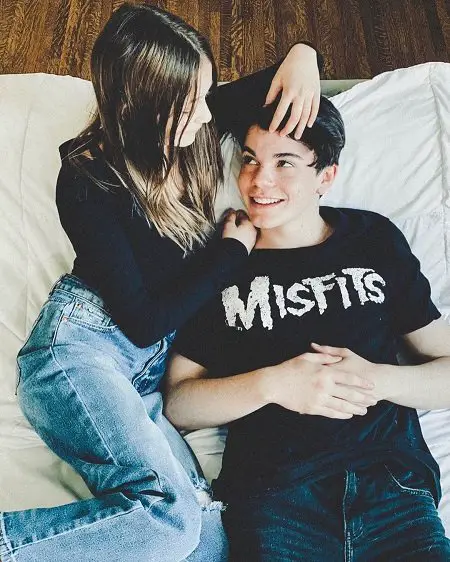 Fergi and Ramirez recreated the post by Charli D'Amelio [net worth: $4 million] & Chase Hudson [net worth: $800,000], and we all know how that relationship went.
Photo Source: Sophie Fergi, Instagram
Then, at the age of 10, a friend of her mother suggested her to let Sophie try some background work as she'd already been writing and illustrating her own stories and screenplays at such a young age. She first appeared as an extra on Mani in late 2017, as was suggested. But the opportunity presented itself for her as she was promoted as a regular cast member. She played the part of a Goth Girl in the background, a character that remained unnamed even after the promotion.
With the recognition, she went on to star in two episodes of Creepy Toys Girls in 2018 and appear on the short clip, God's Gracie, that same year. But she was not featured on any of the episodes after the episode, DJ S'Mores on August 7, 2019. She may have decided to leave the industry to be a full-time content creator or simply not choose to be an actor for a while because she's busy with giving out weekly content. It'll only be clear if she returns to the industry.
Also See: Everything about Abby Rao
Oh, and not to forget, she's appeared on two episodes of Rockelle's own series, Piperazzi. Danielle Cohn [net worth: $2 million] has also featured in one of the other episodes.
Social Media Mom Controls What She Posts, But There Isn't Much Limitation
(Skip over the subheading if you want to learn about her relationship status)
Yes, Sophie Fergi's active on all the major social media platforms, and her mom decides if a certain post is appropriate to be posted. Of course, she's not that harsh, you've seen the posts. Her Instagram bio also says the account is managed by her family.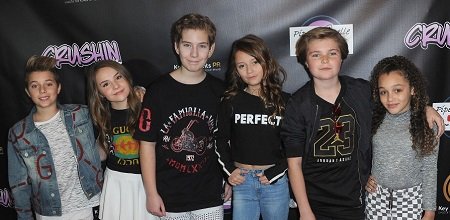 A lot has changed in Rockelle's group.
Photo Credit: Albert L. Ortega, Getty Images
Fergi is active on Instagram, YouTube, Twitter, Facebook, and yeah, TikTok, and she has almost a similar fan-following in all her user pages.
YouTube Earnings
YouTube, of course, is her biggest source of income as Fergi focuses on making videos for fun almost every week. She launched her channel, Sophie Fergi, in October 2018 and started posting videos regularly literally right after a week. Her contents have been amazingly consistent as a lot of people have come and gone from her videos, as Piper has always been there. Most of her videos are scripted too.
She got her first paycheck from YouTube in July 2019 and made a video on it that month. And she also stories out her life, stating how she was almost evicted from her apartment a year ago and was broke. By judging by the smudged area of her cheque, she received $40,000 from YouTube for six months.
You'll also know some more things about Sophie Fergi in the video below.
Watch: Sophie Fergi, Piper Rockelle and Former Crew Spend Her First Paycheck to Distribute Items to the Homeless
Fergi's first video is titled 'Halloween Horror Nights at Universal Hollywood ft. Stranger Things Maze | Sophie Fergi' from October 2018, which has just about 30,000 views at the time of writing. But don't be fooled! One and a half dozen of those videos have crossed the one million, with 'My Crush REACTS to my FASHION NOVA Outfits **FUNNY CHALLENGE** ?' being the most-viewed video with over 6.1 million views. And an Easter Egg: It features her former crush.
Recommended: How Much Tati Westbrook Adds to Her Net Worth from YouTube
She's got over 963,000 subscribers right now and has uploaded 59 times, including the new video, which hints at the breakup of Fergi & Ramirez. Her earnings? Yeah, $40,000 for the first six months added to her net worth (although it went for a good cause as well), meaning it will only increase in the coming days.
Instagram Earnings
Fergi has 1.5 million following her on her Instagram page, Sophie Fergi, whose bio says it's managed by her mom. She's posted over 480 times and earns an average of around $4,100 for each of her posts.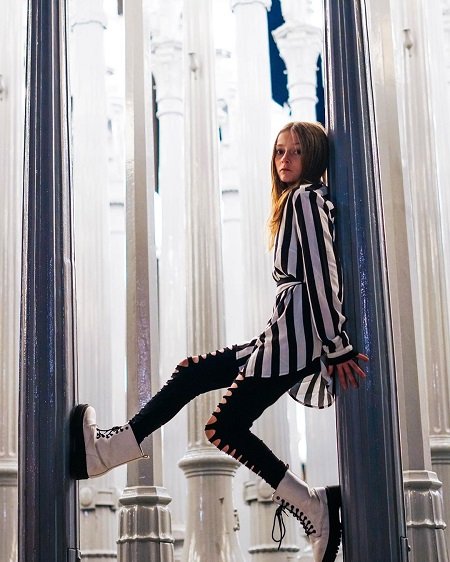 There are some subtle sponsorships on the posts. (Yeah, you wanna buy shoes like that, right?)
Photo Source: Sophie Fergi, Instagram
How? Well with any social media influencer, the money comes from sponsorships and paid partnership deals the celebrities have with the associated brand when their products are being advertised or promoted one way or another on their posts. As for an example, many young influencers have signed with Fashion Nova (you've noticed the brand's clothes on YouTube videos?).
TikTok Earnings
It's the same with TikTok as well. There are even better and easier ways for brands to promote their products on trending users' pages, but it's a little tougher for users to gain some for themselves. Fergi has over 763,000 followers on her TikTok user page, Sophie Fergi (@soph1efergi), and just over 100 posts, from each of which she earns an average of only around $600 from sponsorships, not much from her other income sources.
You Will See This: Bryce Hall Net Worth & The Relationship Deal with Addison Rae
Additionally, she has just over 6,500 followers on her Twitter account, Sophie Fergi (@FergiSophie).
So, Fergi's Net Worth Is...
As of May 2020, Sophie Fergi amassed the estimated net worth of $200,000 earned through social media sponsorships and earnings from acting of course.
Sophie Fergi's Relationship Status, She Had Another Crush Before Jentzen & Is 'Jophie' Over?
Main Article: Sophie Fergi Reveals She & Jentzen Ramirez Broke Up in a Prank-Turned Emotional Video: The Complete Story, Along with the September Breakup
So, the big thing is what Fergi's relationship status is (if she really broke up with Ramirez). The thing between her and Ramirez has been explained well in the link right above. But what you should know first besides that is that she had another crush who was part of their gang in the past. And as is her routine to call her romantic interests 'crush', Ryder Knapp was the guy she liked before the Jophie thing gained traction.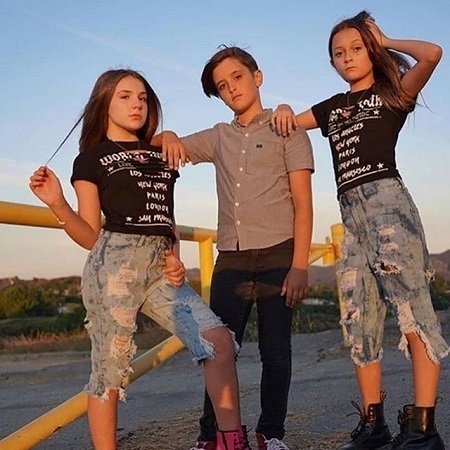 That's Ryder Knapp in the middle, BTW.
Photo Source: Instagram Archives
Knapp and his brother Penn Knapp operate a YouTube channel as well and are social media influencers as well. Knapp appeared in a lot of Fergi's past videos as her crush, until August 2019, as Jentzen came along (presumably as a friend of Knapp, judging by a particular Fashion Nova video). His last appearance was in the early August video, 'CATFISHING My Crush To See If He CHEATS Prank **You Won't Believe This**? w/ Piper Rockelle' (I think, cross-check that).
Watch: Ryder Knapp Seems to Have Had a Girlfriend Though
Then on the last day of August 2019 video, she names Jentzen Ramirez as her crush. Point to note: Gavin Magnus [net worth: $2 million] was also tagged as her ex-boyfriend by her by then, but did feature in Fergi's videos later on too, as Cameron gets a little closer to Rockelle day by day.
Everything You Need to Know about Nessa Barrett
It's unclear as to when they started dating because they continued to call each other their crush until the latest video. But when Rockelle asked in one of her videos from April 2020 if Jophie is real, she said yes after much hesitation. But who knew, a week later, she'd be crying missing after breaking (still updates to come on that one).
This Fact May Confirm They Have Broken Up
So yeah, why they broke up is still up for discussion, but it seems they are no longer together. And as there are rumors that Bryant and Star have also left their gang, it only makes sense that Fergi put up a photo containing her friends, which, by the way, doesn't include Bryant, Star (they like each other is the rumor) and Ramirez.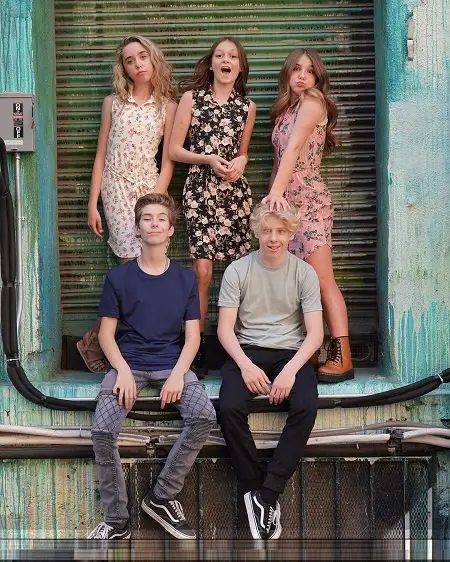 Surprisingly, the tags for Sharbino and Cameron are interchanged.
Photo Source: Sophie Fergi, Instagram
Fergi captions the photo, "Quality over Quantity.... Love you guys so much ❤️ #friendstvshow", which almost definitely says these are the only members of the gang. Well, Haas may also be included as he might've just missed the photoshoot (or is the cameraman!). The three missing in the photo besides Haas (Jentzen, Bryant & Star) may have formed another group of their own, but Jentzen or the others haven't really said what's happening.
Check Out: Chase Keith Is a Member of Daisy Keech's 'clubhouse'
So yeah, Jophie is over, what happened to Sophie Fergi and Jentzen Ramirez is that they have broken up, however you want to rephrase the fact (yeah, just go to the link we previously suggested to get the full cup of tea on that one). By the looks of things, they decided to split up just a day before her last video. What will unfold from now on, it will only be told with time (and by them of course). Oh, and Sharbino was also rumored to have like Fergi at one point, so who knows?
Keep tuning in to Celeb$fortune for more related content and updates.