Yeah, it's been almost a month since the last time we did a piece on any of Charli D'Amelio's pals. And it couldn't be a better time for it. As of May 4, 2020, Addison Rae's surpassed Riyaz Aly in the TikTok follower count rankings, standing at 5th, and surprisingly (umm... not so much), with the rate of increase in followers at a steadily estimated 1.5 million followers per week. It's a relief that the rate has not dropped.
When we last discussed Addison's rankings, she had 32 million followers on her TikTok page, addison rae, on April 9, 2020. She'd just surpassed Baby Ariel at the time, who still has 32.8 million followers, not a great leap from 32 million followers at the time. According to our estimations (not mentioned in that article), it would've taken a few weeks for Addison to surpass Riyaz, considering the gap was with millions between them.
She's really getting into that lockdown spirit, huh?
Aly's followers have not increased as much as he would've liked (don't know if he cares though). As of today, he has 37.8 million followers on his page, Riyaz. Meanwhile, Addison Rae has 38.2 million followers and counting, at the time of writing. She's now chasing off the Chinese video-synching app's official account at just about 40 million followers. Gather around people, she's also almost in the 40-million follower group.
It might be a week before that comes, as Zach King is next, who already had 40 million followers on April 9 and now has 42.3 million followers, at third in the follower count rankings. Although, that chase is going to run a little longer, his rate isn't low either.
Meanwhile, Charli D'Amelio has crossed off the 53-million follower mark, 10 million followers more than Loren Gray, second in the follower count standing, and 7 million more than on April 8, 2020. And here's something amusing, Charli's sister Dixie D'Amelio has 22.7 million followers on TikTok and is ranked 23rd in the list, one step above Will Smith. Yeah, as you can imagine, actors and top-notch singers don't have much of a huge following on TikTok. 'Cause there's no denying these people have raised the bar pretty higher for popularity via TikTok.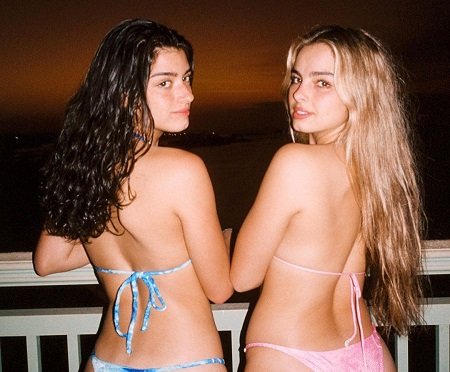 The bar is pretty high for TikTok users these days.
Photo Source: Addison Rae, Instagram
Everything here is as of May 5, 2020. You might need to know, Kristen Hancher has 23.8 million followers, Jacob Sartorius has 23.4 million followers, JoJo Siwa has 20.4 million, Chase Hudson has 19.3 million, Selena Gomez has 18.2 million, Danielle Cohn has 17.4 million, Mackenzie Ziegler has 16.7 million, and Ariana Grande has 16.6 million followers on TikTok.
Keep tuning in to Celeb$fortune for more updates on follower count statistics of TikTok stars. 'Cause you know, more views means more money.